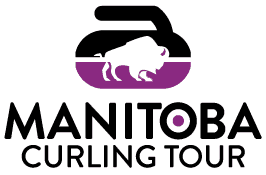 The 2018 MCT has made a few improvements from the previous season. The Morris Curling Club will run a Women's MCT event the weekend of September 14th. This event will be a 16 team, 4 pools of 4 teams format, with 4 qualifiers. The champion will earn a berth to the Scotties Tournament of Hearts in January 2019.
UPDATE: The Morris Sunspiel with a berth ran as an 8 team, 2 pools of 4 event due to low entries. We would like to congratulate team Kerri Einarson, on winning the spiel and accepting a provincial berth to the Scotties Tournament of Hearts.
Manitoba Curling Tour Championship will be held December 7th – 9th also at the Morris Curling Club.  The event invites the top 16 Men's and 16 Women's MCT-points earning teams from the season.  Both events will be triple knockout format with 8 qualifiers.  For each Men and Women, the first berth will be awarded to the Winner of the MCT Championship or furthest finishing team that remains eligible.  The second berth will be awarded to the team finishing with the highest MCT points balance for the 2018 season:  MCT teams will earn MCT points based on performance during the season including this Championship event.  A team's best 5 bonspiels will count toward the accumulated points total, rewarding the highest-finishing eligible team with a spot to their Provincial Championship.
UPDATE: Due to low entries for the Morris Sunspiel with a berth the event was forced to cancel. The men's berth will be awarded to the second place points earner on the MCT.
MCT FEES
In previous years the MCT has charged a $15 per team, per bonspiel fee to the club hosts to pay for administration fees.  The MCT fees are used for website charges, event signage, and office supplies.  This club fee has traditionally been taken directly out of the prize purse. This year we have decided to try a different approach: We are asking all teams playing on the MCT tour (in at least one bonspiel) to make a $10/member contribution towards admin fees for the season.  We ask that you email your team roster to president@mancurltour.ca – you will be added to a list and contacted throughout the season about this contribution.  Separating the MCT fee from each event will eliminate the need to charge the host club. This removes any potential onus on the club to take the fee from prize purses (more money back to qualifiers), this may also help to lower club rental fees, and inturn hopefully bring about more support from our Curling Clubs in Manitoba.
MCT BONSPIELS WITH A BERTH
The MCT has been working with CurlManitoba to try and expand the number of provincial berths awarded on the MCT. The 2018/ 2019 season consist of 4 Men's berths and 3 Women's berths. An arrangement has been made in order to benefit all parties involved, bonspiels with a berth will be a minimum of 8 Men's or 8 Women's teams and ideally 16 team TKO with 8 qualifiers. There will be a $600 entry fee with a 90% payout and a 10% kickback to the host club. The highest finishing eligible team will be awarded the provincial berth and all qualifying teams will be awarded MCT points.
MCT RULES
The MCT would like if all teams could compete in accordance to a few simple rules:
SPARES: All teams must have 3 out of 5 registered team members in order to be eligible for MCT and CTRS points
COIN TOSS: coin toss will determine choice of practice (first or second) OR rock color. First practice will be thrown clockwise and second practice will be thrown counter clockwise.  Practice will be 4 rocks away and 4 rocks back and will be followed by a draw to the button (measured) for hammer.  If the the last stone draw is not measurable, a different player must then attempt LSD also with sweeping.
ORDER OF MERIT & MCT POINTS CHANGES
There are some rule changes for this season regarding Order of Merit and minimum requirements to earn OOM points in an MCT event.  Final details can be found on curlingzone.com : http://www.curlingzone.com/post.php?postid=1968#1
Key changes include both Men's and Women's minimum required team entry for OOM points eligibility is now 8.  The OOM point's calculation has also changed and so the MCT is reviewing how the MCT points will be calculated this season.  The MCT points calcualtions will posted prior to the opening event.  MCT points will consider the best 5 MCT-eligible events played in the 2018 season.  Note that Curl Manitoba hosted berth events do not meet the criteria for OOM and therefore MCT points' eligibility and will not be included.
Bonspiel contacts for each event are updated on the schedule tab on this website.  If you have any further inquiries, please reach out to an MCT representative: Curtis Atkins (president@mancurltour.ca) or Lisa McLeod (vp@mancurltour.ca).