Peterson Rink Wins Atkins Curling Supplies Classic
Oct. 18, 2016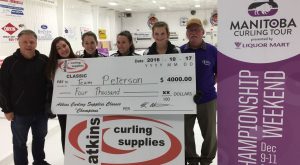 The MCT also had a womens event on the schedule this weekend and saw 21 teams head to the AMCC, the new home of the Atkins Curling Supplies Classic.  The teams played a round robin format and had the top 8 records moving on to the playoffs.  After the round robin there was a log jam of teams that finished with 2-2 records and the tie breaking scores had to be used to determine which rinks would make the playoffs.
The final was a battle between 2 Manitoba teams.  Beth Peterson along with Robyn Njegovan, Melissa Gordon, Breanne Yozenko were taking on the Darcy Robertson team.  Both teams could only manage singles early in the match but in the 4th end Robertson and her team of Karen Klein, Vanessa Foster and Michelle Madden tried to break away by scoring a huge 3.  Down 4-2 playing the 5th end Peterson's team took all the momentum back and with a huge 4 as well as a 2 point lead.  Held to a single in 6, Robertson managed a steal of 1 in the 7th to tie the game up.  The Peterson team now had hammer coming home in a tie game and just needed a single point to secure the victory.  They would score their single and earn themselves a $4,000 pay day.  The win also moves them up to top spot on the Kristi Green MCT rankings.  By making the final team Robertson still moves into 4th spot in the rankings and earns $2,500.
The 2 semi finalist teams this weekend each made $1,800.  They were Jackie Dewar who now moves into 7th place and Briane Meilleur who moves into 2nd place on the season long rankings.  Quarter finalists Deb McCreanor and Janet Harvey both slide into 9th overall with their performances.  Them along with fellow quarter finalists Jamie Sinclair and Tori Koana each pocket $1,350 in winnings.
Next on the MCT schedule is the Canad Inns Womens Classic beginning this Friday in Portage.
Carruthers Captures Canad Inns Crown
Oct. 18, 2016
This past weekend was the Canad Inns Mens Classic in Portage La Prairie.  This event brought in a strong field and by the time the playoff round started Monday morning only 1 Manitoba team was left.  The final saw 2 teams that had to qualify out of the C side and they were Reid Carruthers and his team of Braeden Moskowy, Derek Samagalski, Colin Hodgson take on the Charley Thomas rink from Alberta.  Early in the match the teams traded 2's and after the halfway mark it was Carruthers up 4-2.  Thomas, who is supported by Nathan Connolly, Brandon Klassen, DJ Kidby, would score 1 in the 5th then steal another in the 6th to tie the game.  Carruthers again would score his duece with hammer in 7 and play a flawless 8th end only leaving Thomas an Al Hackner like double to force the extra.  Thomas was only able to score 1 which handed the Carruthers team $18,000 and the win and also moved them into top spot on the Gord Green MCT rankings.  For finishing 2nd Thomas and his team earned $10,000.
Semi finalist this weekend got to take home $6,000 and they were the Steve Laycock team and the Shaun Meachem team.  The quarter finalists were Kevin Koe, Brad Jacobs, John Morris and Bruce Korte.  For qualifying these teams earned $4,000 each.
There is now a break in the schedule for a couple weeks for the men.  The next mens MCT event will be the Ken Kurbis Memorial event held at Rossmere starting Nov.4/16
Westwood Inn Classic Cancelled
Oct. 11, 2016
We have been informed that the Westwood Inn Classic in Swan River, running Nov.11-14, will be canceling their event.  After 18 years of running this event the entries have got to be too low to make it work.  This year there was only 7 mens and 4 womens teams that were entered.  For those teams that entered you will be getting contacted by those who run the event.  Thanks to all the people that have made the Swan River event run for the past 18 seasons.  Your hard work and dedication does not go unnoticed.  Hopefully in the near future this event can be feasible for you to run again.
Calvert wins 1st Man Curl Classic
Oct. 11, 2016
The 1st Man Curl Cla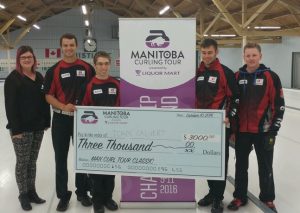 ssic was held at the Thistle curling club over the long weekend and had 16 mens teams show up to play for the top prize of $3000.  The final was played Monday afternoon between Braden Calvert and his team of Kyle Kurz, Lucas VanDenBosch, Brendan Wilson and Richard Muntain.  Calvert had got out to an early 4-1 lead but Muntain and his team of Kelly Marnoch,(in for Mike McCaughan), Brad Van Walleghem, Rodney Legault refused to go away and would steal 1 in the 5th end to narrow the gap to 4-3.  In the 6th end Calvert sealed the deal when he peeled Muntains last rock freeze out of the 4 foot and left 5 of his own scattered around the rings for the 9-3 win.  Team Calvert won $3000 and moves into 3rd place in the overall standings.  Muntain and his team took home $2000 and now move into 5th place overall.
This weekend the semi finalists earned $1500 each and they were Daley Peters and Trevor Loreth.  These teams are 6th and 7th respectively in the MCT rankings.  The 4 quarter finalist each pocket $1000 and they were Derek Oryniak, Bill Kuran, Dennis Bohn, David Bohn.  By making the quarters this weekend Dennis and David Bohns teams sit 1st and 2nd in the standings after the third week of the season.
We would like to thank Rob Atkins as Atkins Curling Supplies donated a $250 gift card to be raffled off with proceeds again going towards the Tour Championship in Dauphin.  Congratulations to Kyle McCannell for having his name pulled and winning the gift card.
Thanks to the Thistle for hosting us and to all the volunteers that helped make this event run so smooth.  We look forward to running this event again and hope all the teams will be back.
This weekend coming up the women are at the AMCC for the Atkins Curling Supplies Classic while the men head to Portage for the Canad Inns Mens Classic.
Winnipeg Cash League Seeking Teams
Oct. 5, 2016
If there are any teams that are wanting to join a league that has competitive games every week the Winnipeg cash league still has a couple openings.  This league is at the Granite on Tuesday nights at 7:45.  Many of the teams that play in the league are competitive teams that qualify for provincials annually.
This season the league has been made eligible to collect CTRS points as well as MCT points.  There will be 2 halves to the season both with a seeded round robin format followed by playoffs.  The 1st half will end before the tour championship so all accumulated points will help your teams standings going into the MCT Tour Championship and OOM ranking.  The 2nd half will end in March so points won in the 2nd half will give you a head start on next seasons MCT rankings.
Teams are paid per win in the round robin and also paid depending on where they finish in the playoffs.  Teams that don't make the playoffs will continue to play during playoffs against other non playoff teams.  They will continue to be paid per win.  Teams will get about 18 games in over the season.
If your team has goals of reaching slams or qualifying for provincials without the grind of regional play downs then the points earned here can help.  If your team is seeking good competition and wants to improve your skills every week then playing competitive games will also help.
If interested you can contact Trevor Loreth for more details at trevorloreth@hotmail.com
Kim wins KKP Classic
Oct. 3, 2016
This past weekend 20 mens teams competed at the Fort Rouge curling club in the KKP Classic.  After the round robin finished up Saturday night there were 8 teams left standing.  For the 2nd weekend in a row the final featured Chang-Min Kim, Se Hyeon Seong, Eun Soo Oh, Chi Goo Kim from Korea against Team Bohn.  This weekend however it was Dennis Bohn and not David.  Along with Dennis Bohn is his team of Neil Kitching, Kennedy Bird and Daniel Hunt.  These 2 teams also played a round robin game against each other earlier in the weekend that Kim had won.  In the final team Bohn started with hammer but after 4 ends they were down 3-0.  They managed 1 in the 5th and another in the 7th but Kim now had hammer and a 4-2 lead playing the last end.  Team Kim would run Bohn out of stones and claim the KKP Classic prize of $2500.  Team Bohn won $1800 and by making the final they now move into top spot on the MCT rankings.
The semi finalist took home $1250 each and they were Hayden Forresters team and Matt Dunstones team.  Dunstone now moves into 2nd place on the MCT rankings after this weekend.  The 4 quarter finalists and $800 winners were Taylor McIntyre, Andrew Wickman, Braden Calvert and Daley Peters.
Thanks to the volunteers this weekend for updating line scores and also thanks to Brad Haight for donating a set of Jets tickets to the game tonight.  Raffle tickets were sold over the weekend for a chance to win the Jets tickets.  Congratulations to Andrew Irving for winning the draw.  All proceeds from this draw will go towards the tour championship.
Up next on tour is the Manitoba Curling Tour Classic held at the Thistle curling club.  The first draw is this Friday at 6pm.  The draw is posted on the events page.
Events filling up fast
Sept. 29, 2016
Hello curlers,
This season the events are all filling really fast.  Most womens and mens events only have a couple spots left to fill.  Some later in the season have some more room but that can change fast.  Here is a list of roughly how many spots are left in each event.  If your team is wanting to enter don't wait or you could miss out.  Visit the events page to see all the contact info and details.
Womens MCT Events
Atkins Curling Supplies Classic – 2 teams
Sunova – 1 team
Dekalb – 8 teams
Westwood Inn Classic – 12 teams
Mens MCT Events
Canadinns Mens Classic – NOW FILLED
Ken Kurbis – 5 teams
Dekalb – 3 teams
Sunova – NOW FILLED
Westwood Inn Classic – 10 teams
Integrity Streaks and Brandon still have more as they are late in the season
All other events are full at the moment but feel free to get in touch with the event contact person as a waiting list could be started.
Hopefully we can fill all of our events and try to expand on the number next season.
Back to back for Bohn
Sept. 26, 2016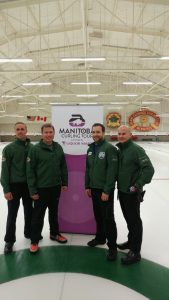 The first MCT event for the men was also the Motherclub Fall Classic held at the Granite curling club.  There were 24 mens teams split into 4 pools and the top 8 made the playoffs.  The final was an impressive match between David Bohn and his team of Justin Richter, Tyler Forrest, Bryce McEwen and a team from Korea that consisted of Chang-Min Kim, Se Hyeon Seong, Eun Soo Oh, Chi Goo Kim.  Team Kim had a slight lead early on in the game but after team Bohn scored a big 3 in the 7th end Kim and his undefeated rink was down 1 heading into the last end.  Team Kim managed to score a single point and force the extra end.  With the last stone in the extra Bohn threw it to the boards confident his team had shot stone already.  The teams measured for the win and team Bohn was indeed shot rock meaning for the 2nd year in a row they have won the season opening event.  The are now at the top of the points list and won $3000.  Team Kim won $2000.
The semi finals both were decided in extra ends and saw Matt Dunstone and Dennis Bohn come out on the wrong side of the scoreboard.  They both earned $1500.  The 4 quarter finalist were Richard Muntain, Jason Gunnlaugson, J.T Ryan and Sean Grassie.  They all pocket $1000 to start the season.
The next MCT event for the men will be starting on Thursday at Fort Rouge as the KKP Classic gets underway.
Englot wins 2016 Motherclub Fall Classic
Sept. 26, 2016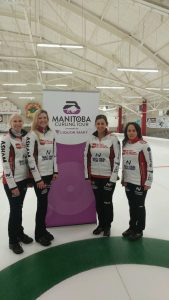 The first event of the MCT season was held at the Granite and saw 15 womens teams battle all weekend with 6 teams making the playoffs.  The final was a back and forth match between Michelle Englot and Joelle Brown.  Brown got out to an early 3 point lead after 2 ends but team Englot clawed back and took the lead after steals in ends 4,5,6.  Brown and her team of Alyssa Calvert, Erika Sigurdson, Lindsay Baldock scored 2 in the 7th end to tie the game up.  With the hammer in the final end Englot along with Kate Cameron, Leslie Wilson-Westcott, Raunora Westcott scored 1 and secured the win.  The win puts team Englot at the top of the points list early on in the year and earned them $2500.  Team Brown took home $1600.
The semi finalists were Lisa Menard and Briane Meilleur and their teams walked away from the event with $1100.  Beth Peterson's team and Rachel Burtnyk's team each qualified for the quarter finals and got $850 for their efforts this weekend.
Thanks to all the teams who came out and treated us to some great curling.  The next event on the womens MCT schedule is the Atkins curling supplies classic at the AMCC starting Oct.14.
Sweeping Regulations
Sept.12, 2016
With the MCT season about to kick off we have been asked about sweeping and what the rules will be this season.  We have decided to follow the new sweeping rules and regulations since all of our events earn CTRS points.
To read the new rules and regulations click this link http://17962-presscdn-0-57.pagely.netdna-cdn.com/wp-content/blogs.dir/58/files/2016/09/2016-18_Sweeping_Moratorium.pdf
If you're interested in the results of sweeping summit those details have also been published as well.
To review the results from the summit click this link http://17962-presscdn-0-57.pagely.netdna-cdn.com/wp-content/blogs.dir/58/files/2016/09/Sweeping-Summit-Summary.pdf
If there are any questions feel free to contact us.
Thanks
Aug 30, 2016
Hello curlers
As you know the Manitoba curling tour Presented by Manitoba Liquor Marts has a new leadership group and with that has come a few exciting changes.  Just so there are no surprises before the season starts we would like to introduce our changes publicly.
First off the mancurltour.ca website is brand new and mobile friendly!  Here you will find tour dates and information regarding bonspiels, Event history and points recaps as well as a contact us page.  Some future additions to our website include team pages with headshots, room to display team sponsors and teams schedules, As well as updated list on which teams have entered a specific event. If there is anything else you would like to see apart of the website please share your ideas.
We have worked hard to get all the events compliant with the WCT rules and guidelines.  This allows all events to earn CTRS points.  All of the events have been posted on the WCT site for added exposure.  So far we have teams from Korea, Scotland, Japan, China, Norway, USA, and neighboring provinces entering events that in the past years have been mainly Manitoba teams.
There are 6 events on the women's schedule this season and 10 events on the men' schedule.  Women's teams can still enter into men's events providing there is no women's event being played that weekend on the MCT.  A women's team playing in a men's event can still earn MCT points towards the tour championship but according to the WCT rules they will be ineligible to earn CTRS points.
This season the MCT points that will count towards the MCT Championship will be simplified. There is no longer a gold, silver, bronze label placed on events.  Instead we are using a formula much like the CTRS points to eliminate any confusion.  Our system will now take strength of field into consideration, based on purse ($300/team minimum), and size of field.  If you qualify in an event with a strong field you earn more points than a team that qualified in an event with a weaker field.  1 point will be awarded per win for non-qualifying teams. Strength of field multiplied by 3 points will be earned for quarter finalists, SFM multiplied by 4.25 points for semi finalist, SFM multiplied by 5.5 points for runner up and SFM multiplied by 7 points for the bonspiel champions.
Your teams 5 best point earning bonspiel's will be counted towards MCT championship qualifying.  The spring and fall berth bonspiels are not eligible for MCT points due to not meeting the $300 per team entry fee criteria.
Curl Manitoba has given berths to provincials to the tour again this season.  The men have 3 berths, 1 to the winner of the tour championship and 2 to the highest finishing eligible teams in the points standings.  The women have 2 berths.  1 to the winner of the tour championship and 1 to the highest finishing eligible team in the points standings
The tour championship will be held in Dauphin again this season.  This event is an invite only event for the top 16 eligible men's teams and the top 12 women's teams in the point standings. We are working hard to raise sponsorship in order to make the tour championship a free entry event! The curling tour will cover your entry fee into the championships and still provide a prize purse. We are hoping this will increase entries into bonspiels throughout the year, and show support to the teams that play on the tour as often as possible.
We are still searching for and accepting new sponsors for the tour, if you or your business would like to learn about the opportunities of becoming a tour sponsor please contact us!
Best of luck to everyone this season!
May 26, 2016
To our valued MCT supporters and curlers
I would like to first briefly introduce myself to you. My name is Curtis Atkins, President of the Manitoba Curling Tour elected 2016. I grew up in curling clubs all over Manitoba.  I have participated in junior programs, high school curling, the MCT and WCT circuit my whole life. Curling has been not only an extracurricular activity for me but also a lifelong passion.
Upon hearing about Resby's transition into the CCA I had dabbled at the idea of volunteering my time to our curling community.  It wasn't until I had shared the idea with my curling friends and family that I took action.  I had overwhelming support on the idea of possibly being involved with the MCT.  A few emails exchanged with past president Resby Coutts eventually led to public meetings with other likeminded individuals.  I was eventually elected as Tour President and gladly accepted the daunting position.  I must say I am quite excited about the venture.
Luckily my volunteer position came with more volunteers;  Keith Doherty accepted position of Vice- president and Justin Twiss as Secretary.  As the transition was being made, we were fortunate enough to bring on Kevin Wiebe as our website guru and marketing master.  After a few team meetings, and the decision to bring on a female representative,  Lisa DeRiviere happily agreed to come on board and volunteer her time.
I assure you we have been hard at work this past month and a half.  Our brand new mobile friendly website is up and running!  Our schedule is set!  We have had overwhelming support from clubs, bonspiel  coordinators and  league chairmen.  As you can imagine putting all these details together  is time consuming.  We plan to release our schedule of events as early as the first week of June!
There are more exciting changes to the MCT for the upcoming season. All bonspiels will be registered with the World Curling Tour,  allowing teams to collect CTRS points!  There have been two competitive leagues expressing interest in multi week bonspiels, which will also award CTRS points.  An ambitious idea we are working to confirm is the elimination of the entry fee completely from the MCT Championship, meaning the top 16 point earners will be playing for sponsored money and a berth into the Provincial Championships.  Another change we have made and something we would like to continue moving forward with is an MCT schedule with no conflicting bonspiels. Our goal is to fill the clubs again.  Since we have had their continued support over the years, we wish to return the favour!
The MCA has also confirmed their support of the tour, awarding the Men's division with three berths – the MCT CHAMPION and the two highest ranked eligible teams at the conclusion of the championship. In the women's division – the MCT CHAMPION and the highest ranked team at the conclusion of the championship.
Our biggest task, and certainly one of the most important tasks, is too reach out to our existing sponsors, as well as approach new sponsors. We have been in contact with our presenting sponsor Manitoba Liquor and Lotteries, and they have expressed great excitement to continue their support.
As we strive to please our curling community, we will graciously accept any ideas or concerns from the public.  Our website  www.mancurltour.ca has a contact page if you wish to leave an email for our volunteers.  On behalf of the Manitoba Curling Tour we would like to extend  thanks for your continued support and we wish you a fun filled summer.  See you in September!
Regards,
Curtis Atkins,
President, Manitoba Curling Tour
---
March 21, 2016
MANITOBA CURLING TOUR "UNDER NEW MANAGEMENT
An "Under New Management" sign has been posted on the virtual doors of the Manitoba Curling Tour presented by Manitoba Liquor & Lotteries.Curtis Atkins, Keith Doherty and Justin Twiss will head the volunteer Manitoba Curling Tour (MCT) Committee as of March 21, 2016. Atkins has been elected President with Doherty as his Vice-President. Twiss will serve as the committee's secretary.The new leaders plan to expand the organizing committee to include both rural and Winnipeg as well as female and male representation. While they have identified some possible additions to the Board, they invite other interested curler-volunteers to contact with them.The plan for the immediate future of the Manitoba Curling Tour includes a return to its roots with the volunteer-directed committee taking a very hands on approach."As curlers we want to work directly with the event organizers, the players, our sponsors and partner organizations such as CurlManitoba to build upon the success of the Manitoba CurlingTour" said new President Curtis Atkins. "We also want to explore ways to re-new and improve upon the way the MCT has operated, basically unchanged since its inception."The Manitoba Curling Tour was created in the summer of 1991, to provide a means of co-ordination and support for the series of local bonspiels or cashspiels in the province. Initially it involved men's events, but in 1996 -97, a women's division was added. Atkins says the new MCT organizing committee will be contacting event organizers , players, sponsors and other stakeholders during to remaining few weeks of the current curling season to hear comments and suggestions for the future and to confirm an MCT schedule for 2016-2017."On behalf of all the curlers, we want to express their appreciation to retiring Tour Coordinator Resby Coutts and former Coordinator Bob Picken as well as to Andy Stewart and all of the past volunteer directors of the Manitoba Curling Tour. their efforts have helped the MCT play an important role on the Manitoba curling scene" Atkins said.
Interested curlers may contact:Curtis Atkins (curtis_atkins@hotmail.com)
Keith Doherty (kdoherty@hotmail.com)
Justin Twiss (justin.twiss@mccain.ca)
---
<Dec 13, 2015>
Lyburn Wins 25th Anniversary Manitoba Curling Tour Men's Championship
Twenty-five curling seasons after Vic Peters and his Manitoba champions won the inaugural Manitoba Curling Tour Men's Championship, William Lyburn's Granite team of Jason Gunnlaugson, Richard Daneault, and Braden Zawada have won the 2015 MCT Championship presented by Manitoba Liquor & Lotteries. The event was played December 11-13 in Dauphin.Lyburn posted a 4-3 victory, with a final end last rock draw to the eight foot circle to defeat Alex Forrest-East St. Paul (Travis Bale, Ian MacMillan, Connor Njegovan).Lyburn and his team won the championship's $2,500 first prize. Team Forrest picked up $2,000 and the Viterra provincial championship berth which goes to the highest finishing eligible team. Lyburn and his team already had a provincial men's berth in hand.In the semi-finals, Lyburn defeated Scott Ramsay-Granite (7-3) while Forrest defeated David Bohn-Granite (6-1). The semi-finalists each earned $1,500. Team Bohn had already earned an entry into the Viterra Championship in Selkirk through the CTRS process while Ramsay's semi-final finish earned his team a Viterra invitation.Quarterfinalists Matt Dunstone-Granite and Dennis Bohn-Assiniboine Memorial picked up the final two provincial berths as a result of their final MCT ranking positions. The other two quarterfinalists were Jared Kolomaya-Stonewall and Richard Muntain-Pinawa. The quarterfinalists all picked up $1,000 cheques.
Montford Wins 20th Anniversary Manitoba Curling Tour Women's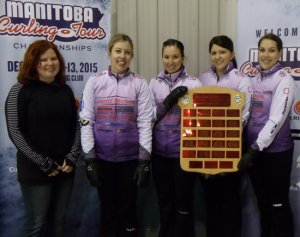 Championship The Manitoba Curling Tour's Women's championship, an event which started five years after its men's counterpart, was won Sunday in Dauphin by Michelle Montford-Assiniboine Memorial (Lisa DeRiviere, Sara Van Walleghem, Sarah Neufeld). Montford defeated clubmate Joelle Brown 4-3 in the final.In the semi-finals, Brown defeated Darcy Robertson-Rossmere (7-4) and Montford beat Beth Peterson-Fort Rouge (5-2). Robertson and Peterson each earned $1500.A pair of Dauphin teams, the Tiffany McLean and Melissa Barsewsky foursomes reached the quarterfinals.The Montford, Brown, and Robertson teams all earned Manitoba Curling Tour invitations to compete in the Scotties Tournament of Hearts presented by Monsanto in January 2016 in Beausejour.In the semi-finals, Brown defeated Darcy Robertson-Rossmere (7-4) and Montford beat Beth Peterson-Fort Rouge (5-2). Robertson and Peterson each earned $1500.A pair of Dauphin teams, the Tiffany McLean and Melissa Barsewsky foursomes reached the quarterfinals.The Montford, Brown, and Robertson teams all earned Manitoba Curling Tour invitations to compete in the Scotties Tournament of Hearts presented by Monsanto in January 2016 in Beausejour.
---