News Releases and Current Results

---
<August 25, 2014>
Assiniboine Memorial to Host MCT Championships
The Assiniboine Memorial Curling Club (AMCC) will serve as host club for the Manitoba Curling Tour's Men's and Women's Championships, December 12-14, 2014.
"The AMCC is excited to host many of Manitoba's top curlers over three days of what we expect to be the best Men's and Women's curling competition Winnipeg curling fans will be able to see in-person this season," says Club Manager Paul Batchelor. "Matt Rankine, our Ice Technician, delivers championship calibre ice all season long so we know the curlers will have the kind of surface they want for making all of the shots."
Batchelor says facility upgrades in recent years have made the AMCC an excellent venue for championship curling. From improved ice-shed lighting, reverse osmosis water, very recent installation of a dehumidifier and a replacement chiller to installation of a public lift and fully accessible washrooms facilities, AMCC will provide an enjoyable championship experience for both competitors and spectators.
The Manitoba Curling Tour Championship events will feature a 16-team Men's Division and a 12-team Women's division. Each is scheduled to play a triple knock-out with a playoff round. The teams will play for a cash prize pool plus the opportunity to add to their chances of earning Men's Safeway Championship invitations and Women's Scotties Tournament of Hearts invitations. In addition, the MCT Championships will be CTRS (Canadian Team Ranking System) eligible in order to allow interested teams to earn coveted points on the national competitive scene.
Teams will be invited to compete in the MCT Championship based on their season-long MCT rankings. Each team's top five finishes in MCT bonspiels are counted in the determination of the rankings. The champions plus the four top ranked men's teams and two top ranked women's teams will qualify for their respective provincial championships.
The MCT's fall season begins with the September 25-28 Mother Club Classic at the Granite Curling Club.
For information contact MCT Coordinator Resby Coutts (204-799-2250)
AMCC Manager Paul Batchelor (204-479-7528
+++++++++++++++++++++++
<August 13, 2014>
DEKALB SuperSpiel expands to the Rosenort Arena and World Class Ice!!

The DEKALB SuperSpiel, presented by Meridian, Rocky Mountain Equipment and official host Sponsor, the Town of Morris, is excited to announce the expansion of the DEKALB SuperSpiel into the Rural Municipality of Morris and the Rosenort Arena.(15 minutes north west of Morris) on November 20-24.

With the expansion to 48 teams (32 women-16 men) the DEKALB SuperSpiel needed more ice. The event will now be held at the Morris Curling Club Nov 20-24th and at the Rosenort Arena Friday, Nov 21 and Saturday, Nov 22.

"This is exciting news for the Rural Municipality and gives us the opportunity to showcase the RM, the Rosenort arena and the sport of curling to the World." said Reeve Ralph Groening of the RM of Morris.

World Class Ice maker Greg Ewasko will provide 4 sheets of Olympic quality ice for the teams..

The prize money (subject to full entry) will increase to $40,000 for the women and $30,000 for the men, bringing the total DEKALB SuperSpiel purse to $70,000. 32 women's teams also increases the value of the CTRS Points for teams hoping to qualify for the 2018 Olympics.

The DEKALB SuperSpiel welcomes Team Jennifer Jones-2014 Olympic Gold Medalist and many others from around the world and Canada !!
+++++++++++++++++++++++
<August 13, 2014>
Granite Looks to Expand Men's Event

Response has been positive to the new Mother Club Classic, the Granite Curling Club's first bonspiel of the new season, according to organizer Darryl Gunnlaugson. The men's event has already posted 17 entries, one more than the original target and Gunnlaugsoon says they will expand the bonspiel to 18 if they get one more entry. In the event of a change, the 18 teams will play in groups of six - guaranteeing them five games in the opening spiel of the year and a minimum $10,000 purse.

On the Women's side of the bonspiel, there are 11 entries at this stage but lots of time before the event for it to fill up as well.

Interested teams are encouraged to contact Darryl Gunnlaugson - darrylgunnlaugson@hotmail.com

Entry fee checks, payable to Granite Curling Club, are requested for the full amount ($500) but may be post-dated to September 1, 2014.

Mail to: MOTHER CLUB FALL CURLING CLASSIC
One Granite Way, Winnipeg Manitoba, R3C OY9

+++++++++++++++++++++++
<July 15, 2014>
Introducing the SUNOVA SPIEL AT EAST ST PAUL

East St. Paul Curling Club has partnered with Sunova Credit Union for two new bonspiels on the MCT and WCT circuits this fall. The Sunova Spiel will be held November 27 - 30, which is perfect timing for some fine-tuning before zone playdowns. The format will be a triple knock-out 16 team women's bonspiel and 16 team men's bonspiel. The purse will be $10,000 for each bonspiel, with an entry fee of $600.

Entries can be submitted to Kim Link: kimlink@mymts.net. Please forward a list of team members and post-dated cheque (October 1), payable to The Sunova Spiel, to: Kim Link, 116 North Hill Drive, East St. Paul, MB, R2E 0H7
+++++++++++++++++++++++
<June 23, 2014>
CANAD INNS INITIATES CLASSIC FOR WOMEN
RETAINS PREMIERE MANITOBA SPIEL ON WORLD CURLING TOUR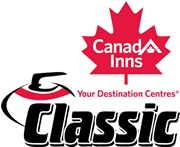 Manitoba will continue to attract world-class women's curling, with Canad Inns announcing The Canad Inns Classic for Women from October 24-27 in Portage la Prairie.
"Canad Inns is pleased to host this first-class event on the World Curling Tour," said Paul Robson, CEO for Canad Inns.  "Manitobans are huge curling fans and love to watch our home-grown talent compete against the best in Canada and the world. "
With a purse of $60,000, the 32-team triple knockout event attracts the top women competitors with teams expected from across Canada as well as International Teams.
"The fall spiel has always been important to women's curling and further building our level of competitiveness in Manitoba and across the Prairies,"said Cathy Overton Clapham.  Canad Inns has a track record in supporting curling, and we know that this event will be a huge success."
Canad Inns has extensive experience and commitment to supporting competitive curling.  Since 2010, Canad Inns has been the Title Sponsor for the Canad Inns Prairie Classic, a prestigious spot on the men's world curling tour, which will take place again in Portage la Prairie from October 17-20th.  Canad Inns was also a Gold sponsor for the 2008 Tim Horton's Brier in Winnipeg and Title Sponsor for the 2009 Men's World Curling Championship in Grand Forks North Dakota.
The curling will take place at the Portage la Prairie Curling Club, which is part of Canad Inns Destination Centre Portage la Prairie.  Further details on draws and ticket prices will be announced in the fall.
"Canad Inns is proudly committed to our community and partnerships supporting events important to Manitoba," said Robson.  "We look forward to supporting Manitoba's proud tradition of world-class curling."
Contact:
Cindy Carswell
Vice President, Corporate Identity & Community Relations
Canad Inns
204-697-1495
+++++++++++++++++++++++
<June 13, 2014>
Manitoba Liquor and Lotteries Women's Curling Classic Ends its Run


The following email was sent earlier this week by Cathy Overton-Clapham (on behalf of the Manitoba Liuquor and Lotteries Curling Classic Committee) to the bonspiel's team list. It includes the news that the bonspiel will not be running this year. That news will be a disappointment to competitors and local fans alike. Both groups have looked forward annually to the spiel at Fort Rouge as the first real chance every winter to compete against or watch the best female curlers in the world. The Manitoba Curling Tour says a big THANK YOU!! to the volunteers who have put the time and effort into the bonspiel over the years - Resby

+++++++++++++++++++++++
Hello Everyone..........As the 2014 curling season will soon be upon us, the organizing committee of the Manitoba Liquor & Lotteries Women's Curling Classic has made a difficult decision. For over 20 years, Winnipeg has hosted a major women's curling event, with the departure of some key committee members as well as volunteers, we have decided not to run the event this year. We sincerely thank our dedicated committee members as well as our volunteers who have worked for many years on this event, we could not execute a first class event without your support and efforts.

We would also like to thank our many sponsors who have been supporting the event for long time, we sincerely appreciate their support over the years..

As we look forward to the future, we will endeavor to search out other opportunities to give back to this sport that we love.

To the many teams that have participated over the years, we thank you and hope that you understand that this decision was a difficult one for us to make.

Good luck to all teams in the 2014/2015 season...................Manitoba Liquor & Lotteries Women's Curling Classic Committee.
+++++++++++++++++++++++
2014-15 "DRAFT" MCT EVENTS CALENDAR IS NOW POSTED

+++++++++++++++++++++++

<Jan 5, 2014>
GRANITE TO HOST NEW MCT MEN'S & WOMEN'S EVENTS
The Granite Curling Club has announced plans to host new men's and women's cash bonspiels as a Manitoba season opener in the fall of 2014. The events will be both MCT and WCT affiliated.
The details of the MOTHER CLUB FALL CURLING CLASSIC are posted on the Granite Curling Club website (www.granitecurlingclub.ca/Bonspiel). A 16-team Men's event (triple knock-out, eight qualifiers) and a 16-team Women's event (triple knock-out, eight qualifiers) will run at the same time, September 25-28, 2014.
The entry fee will be $500 per team with a prize payout of $9,000 per event.
On behalf of the organizing committee, spokesperson Darryl says the first 16 paid entries per bonspiel will be accepted and the 16 teams per event are the maximum which will be accepted.
Draws will take place Thursday and Friday evenings and all day Saturday and Sunday.
Entry fee checks, payable to Granite Curling Club, are requested for the full amount ($500) but may be post-dated to September 1, 2014.
Mail to: MOTHER CLUB FALL CURLING CLASSIC
One Granite Way, Winnipeg Manitoba, R3C OY94

Contact for information: Darryl Gunnlaugson email:darrylgunnlaugson@hotmail.com
+++++++++++++++++++++++
<Jan 5, 2014>
SIGURDSON WINS DEER LODGE MCT SPIEL

Steen Sigurdson and his Heather team (Riley Smith, Ian McMillan, Nick Curtis) won the championship and the $1,300 first prize at the Deer Lodge Open MCT Bonspiel with four wins and a single loss. Team Sigurdson defeated Richard Muntain 8-3 in the final game. The 12-team event included six teams bound for the Safeway Championship and three headed for the Scotties Tournament of Hearts. Muntain earned $700. Semi-finalists Kate Cameron and Darcy Robertson (skipped by Kyle Foster) each earned $550 while the quarterfinalists Joelle Brown and Kevin Brown each earned $400. The Cameron and Robertson teams were the unbeaten A-Side qualifers.

Team Sigurdson starts the 2014-15 MCT season at the top of Gord Green's MCT Men's Rankings with Muntain ranked second and Kevin Brown ranked third.

As the Robertson foursome was ineligle, Cameron starts the 2014-15 MCT season at the top of Kristi Green's MCT Women's Rankings with Joelle Brown ranked second.
+++++++++++++++++++++++